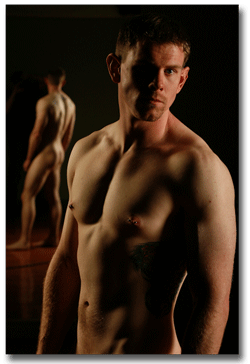 "Naked, exposed to view or plainly revealed, that is the definition of the word. What Terry Cyr has done through his "Naked Man Project" is just that. He stands exposed to strangers, allowing them to explore freely the parts of his life, most people keep well hidden from the outside world. He does this through the nude male images he skillfully photographs in his studio in Montana. With each image Terry adds to his blog he writes his feelings of the day, allowing the world to essentially read his every thought. While his imagery is stunning, and classical, and can stand on its own merits paired with his words they become something entirely different. The nude male is a taboo subject at best in most society, Terry's work demands you reexamine what the world has to say about it. His work is educational as well, there is more then a wink and a nod to the past found here. I find I understand the art of photography so much more after reading his blog . Terry's images and words have become a metaphor of sorts for a man of a certain age, pausing to glance back at where he has been, slowly embracing where he is now, and looking the future square in the face through the eye of a lens.
I believe he his about half way through his project now, In ways he is changing peoples lives, while I suspect he is at the same time learning to truly appreciate his own. It will be a bittersweet day when this is finished, I will be even more proud of my friend then I am now for completing this monumental task, but I will be sad not to watch this year long strip tease of life."
Marklin – Brazil
"The first time I saw a Terry Cyr photograph I knew immediately that I had stumbled across a rare talent. The nuances of light and considered composition show a depth of understanding of both the human condition and technical requirements of photography that is on an extraordinary level. In each of Terry's photos I know to wait and look again, for the surface image and the knowledge of art theory and art history shown is only the beginning of what is revealed to viewer the more they look. For Terry's photography also requires us to see."
John Douglas – Australia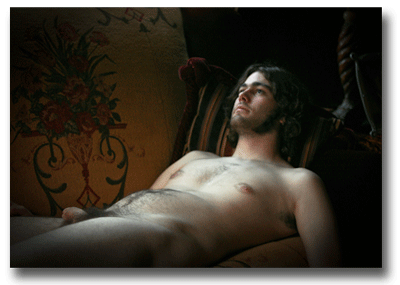 "Terry Cyr's professional training in theatrical lighting gives him a good start toward technical expertise in photography. His appreciation for and interest in the male form gives him the focus needed to take that expertise to the top. But it is his own sensitive introspection, as evidenced in his Naked Man Project, that brings his work together and makes it truly art. I have been studying male portrait photography for over forty years. Terry's work is hands-down the best I've seen."
—Bryan D. Spellman, Ph.D.
School of Fine Arts, The University of Montana (retired)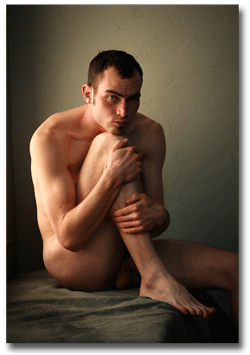 "Terry Cyr's work in the arena of the male nude has set a very high standard in the field. Terry's work with classic poses, inspired by the likes of Caravaggio and other artists, combined with his amazing mastery of light, has created images that are classic and timeless. One feels a sense of awe and being at one with the photographer and model when viewing these classic works."
Ramon Reynolds – Costa Rica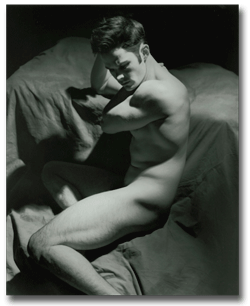 "Terry uses the richness of life lived, passion, and compassion to create a unique melding of subject and self, a sincere and honest collaboration taking his subjects on the greatest exploration - looking at themselves and capturing the essence of their existence – to unveil what is remarkable within themselves. His work, inspired by classical art, takes us to the edge where beauty dwells, explores identity and brings it to light in images that give the subject a different perspective. Terry's distinctive style observes existence on both a physical and emotional level, draws upon the power and mystery of light to transform, bringing focus to what is important by creating a journey through time and revealing passion lurking within the shadows of images where darkness meets the light and the beauty of humanity emerges."
David Christenson – Missoula Montana